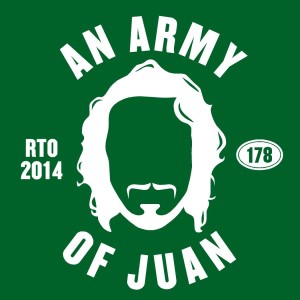 This weekend is the 10th Annual Reno-Tahoe Odyssey, at 178 mile relay race of 250 teams that starts in Reno, travel through Truckee, around Lake Tahoe and finishes back in Reno. A typical team consists of 12 runners that complete individual legs. This year, Juan Antonio de Oliva will set out to run all 178 miles on his own. His team name? — "An Army of Juan"!
We designed a logo for Juan & Reno Running and Fitness to be used on sweatshirts, tshirts and stickers to promote the 178 mile run.
509 CREATIVE along with Reno Running and Fitness, Reno Running Company, Super Burrito and others are proud sponsors of this epic one man journey.